Little Brehat, revised
May 13, 2019
I was looking through my pictures from Newfoundland the other day, to make a selection for C41 magazine. I didn't include these, like I didn't include them in
the gallery on this website
or anywhere else. It's not that I don't like them. I do, although I appreciate the landscape more than the photographs. When I look at the pictures, I see the landscape. Feel the cold, damp air. But also: they are taken with the Fuji, most of the others with the Nikon. Fuji tones are different, lighter. Light as opposed to heavy, not to dark. Nikon colours come across as fattier, deeper. Both have their charm (the Nikon a tad more than the Fuji to be dead honest, at least when I take it outdoors) but I don't always feel I should mix them in a series. This is a small series in itself, I suppose.
I reworked some of the pictures because I wasn't very happy with the initial editing. The words come from a blogpost that I wrote at the time.
Great Brehat is a little fishing village, on the east coast of the northern peninsula of Newfoundland. It was foggy, with a bit of a drizzle. We decided to a short walk that would take us to Little Brehat, a small resettled community. Not that I knew what to expect from that bit of information. A village like Great Brehat, but .. smaller. And it was. A lot smaller. It consisted of two cabins. Looking it up afterwards, I learned that the population of Little Brehat was resettled in the late 50's, with the last family leaving in 1959.
I also found this book online:
Report on Resettlement
, (1960), following an inquiry that was authorized in 1957 into the problems of centralization and resettlement in Newfoundland. It's a sort of inventarisation of the social and economic problems in small villages and the wish or need for resettlement.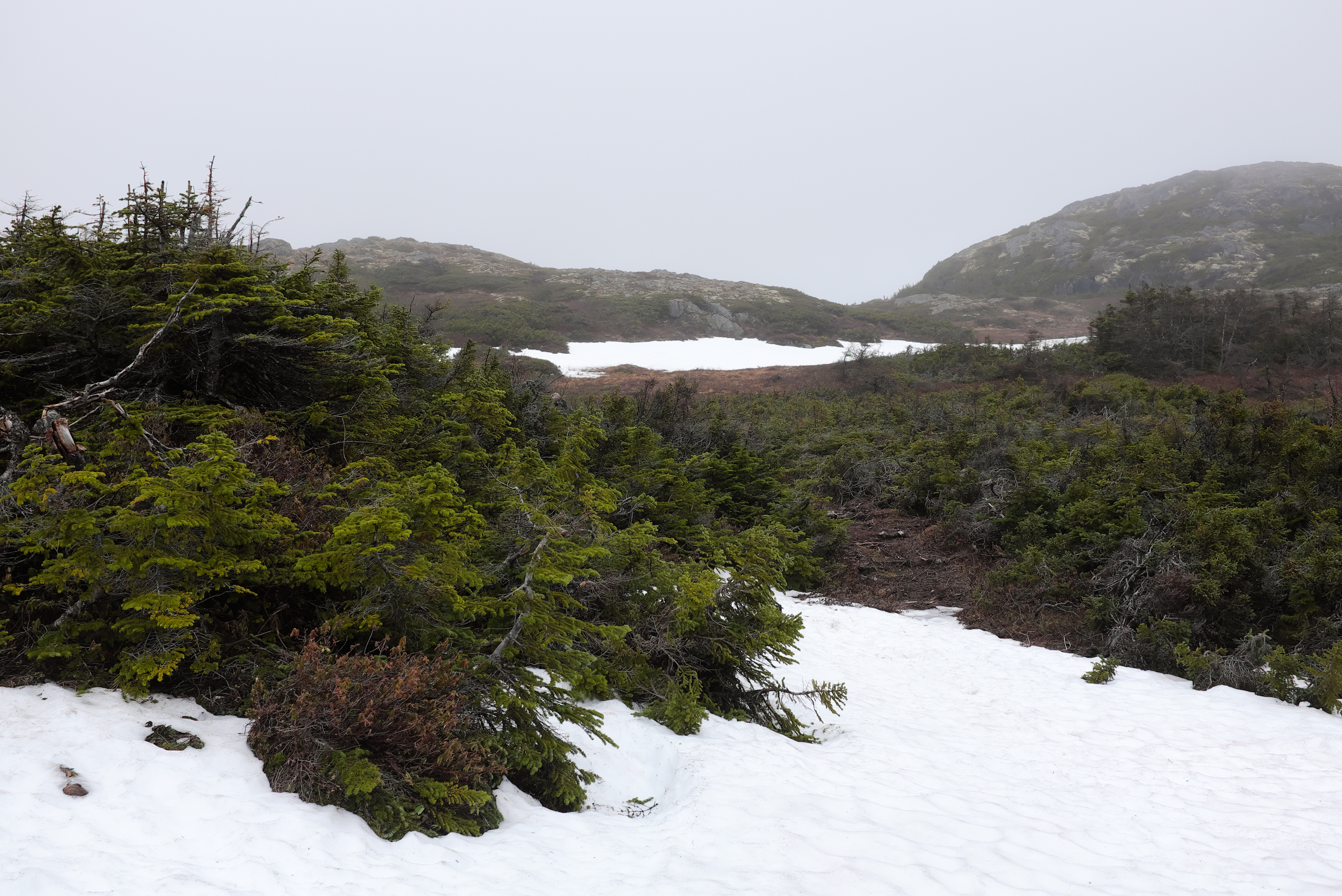 Population Little Brehat in 1951: 112. In 1956: 107. Estimated numbers of families: 14. Fishermen: 26.

"Seven families moved to St. Anthony during 1957, appr. five more in 1958. The remaining families wish to move and hope to receive financial assistance. The reasons why this community should be resettled include the difficulty of providing medical care and adequate tuition. Fishing is the only industry and it's made especially hazardous because the harbour is exposed to the sea, and storms frequently destroy fishing property. The settlement has no road connection, no agricultural potential, and is often completely isolated in Winter."

Thinking back at this landscape now, it's not difficult to imagine the hardship these people suffered in the fifties. I peaked into one of the cabins, its door was open, but I didn't enter. I think it's used now as a shelter. For Coke drinking fishermen. I took a few pictures. It felt like trespassing. But I took them anyway.