Ventura, fuerte
12 May, 2022
The world scares me, these last two years and the last two months in particular, but on that island I felt unreasonably happy for at least two days. It was 35 degrees when we arrived, a thick, white haze hovering over the island like smog, while a storm of hot wind raged over its dried out, treeless plains and hills. I couldn't take my eyes off the landscape stretching out from the back of the house. A sort of gravel pit with a goat farm, that gradually turned from yellow to grey to reddish and deep brown, to pitch black. I took a shower to cool off, reluctant to put any clothes back on, in the comfort of warm air streaming into the house from the patio. The little house was barely holding it together. I didn't sleep much, listening to the new sounds - roaring, squeaking, cracking - in this strange place that had yet to be discovered. In the morning I washed away a fine layer of dust and sand collected on the dining table, and pretty much everywhere else.

Buen Paso, Fuerteventura, Spain. More pictures here.
Definition of done
20 March, 2022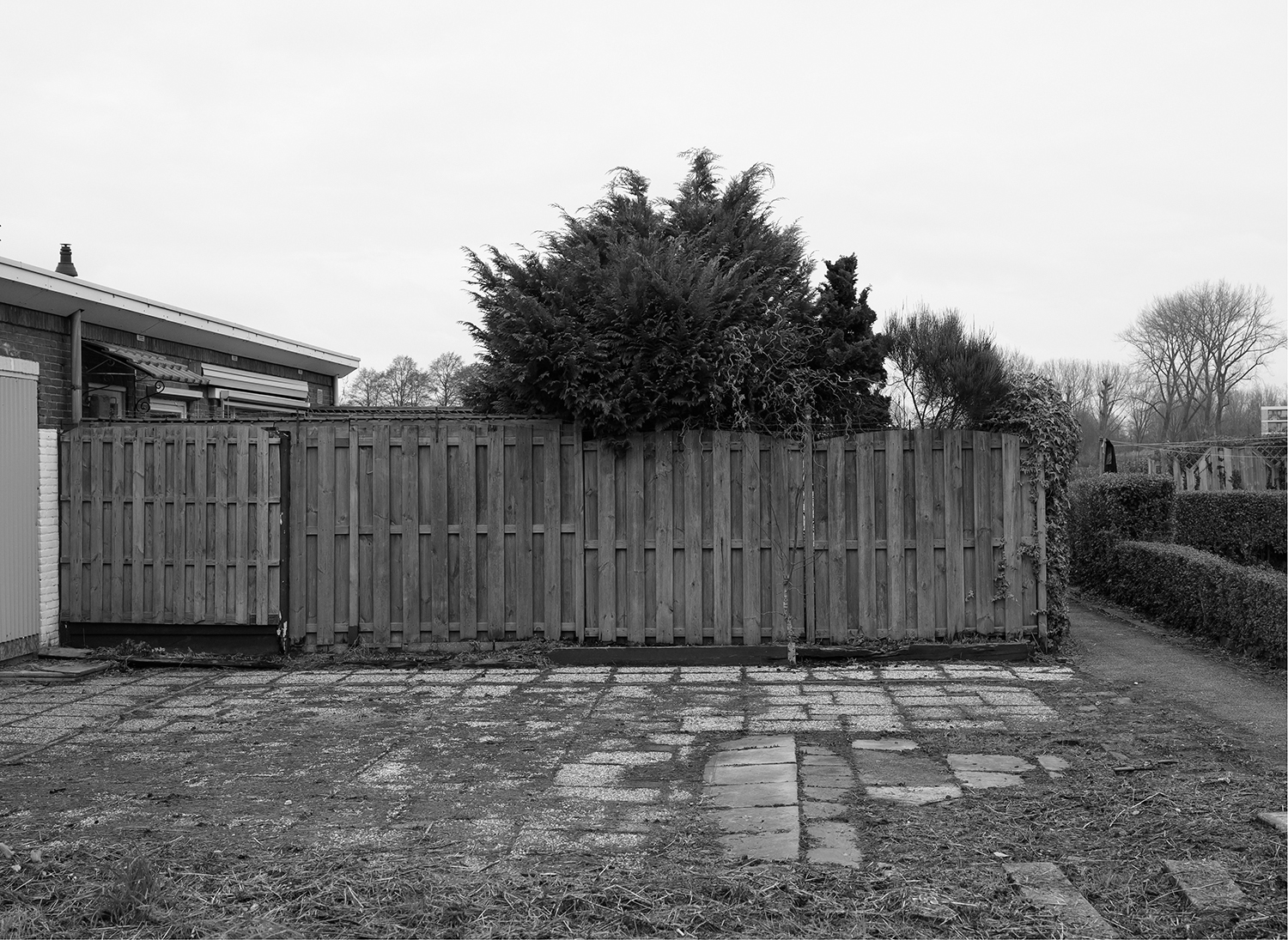 Tuindorp is my first long term photographic project. Not scrambled together afterwards, drawn from multiple sources, but conceived as such from the outset. 'Conceived' perhaps is too big a word, since I never really knew what I wanted from it, or what story to tell. Or how to incorporate the concept of 'time' into the project. And 'time' is certainly something to consider. Not just because I shot these pictures over a time span of two years, but also, or mostly, because time is part of the subject: this neighbourhood is gradually being demolished.

I like many of these pictures, but I think as a project it's flawed. There is no real sense of the passing of time. Surely you can see the seasons changing, but only if you are observant enough, because it's all monochrome, and even the sunniest days are rather grey. And yes, it's a garden village, so even in winter there are plenty of leaf-bearing trees and bushes. The state of these houses and gardens doesn't tell you much either about any development over time, because there have always been parts deserted and parts inhabited since I first visited the area.

Then what does it tell me? Or anyone else who is looking at these pictures. In fact I see a status quo, downtime, stagnation. I often felt that the seasons changed faster than the demolishing of the neighbourhood, that is slowed down by all sorts of procedures and lawsuits. The greens can't be bothered by any plan or purpose though, they grow as they like, even in cleared out gardens. This is where life goes on against all odds, in this particular place and in a certain time frame, waiting for things to come. Perhaps this is what this series is about, intentionally or not.
Is it enough? I mean that literally as well. When is a project done? I think it's about now. When I look at the pictures, I still feel it needs a greater variety in terms of scale and distance. But after the last couple of visits, coming home with next to nothing, I don't think I know how to pull that off. I feel I'm only repeating myself.
I was hoping for some snowfall this winter, a radical different atmosphere, to underline the changing of the seasons, when nothing else is changing much. That would be the only reason I can think of now to return to the area, but I don't see that happening, not this year at least, and probably never.
I re-edited
the selection here on the website
. Added one or two photographs, dismissed a few others. Removed the hue and turned them into proper black and white. I suddenly felt that there was something inappropriately nostalgic about the slightly warm tone that I had put on top of the black and white layer.
Zandvoort. On the right Badhuisplein square, with apartments that will be demolished soon, to make space for new building.
A spur of the moment decision to take a day off from work, get on the train and spend the day at a beach resort. A bit of an odd choice I admit. I like the beach and have a weak spot for sea side architecture, but only in winter, in a quiet, off season atmosphere. Nothing of the sort, as expected, on a sunny day in March, in the midst of spring vacation. It was nice even so, taking a long walk along the boulevard, reading the papers while having tea and a sandwich at a beach pavilion, a bit of sun on my face.
Also, I'm trying to get along with the light and colours of sunny days, if only to get me through the summer season. I never photograph much under these conditions, except when traveling. And even then I'd rather not. In France last year I tried to make peace with blazing sunlight and blue skies. I managed to sqeeze
a little series
out of these efforts, and I quite like them to be honest. But these are black and whites. Sun at noon for beginners. And also I cheated.
Colour photography is something else though. Drop shadows and back light are more difficult to handle, colours, blues and greens especially, are too prominent to my taste, and, coming from a digital camera, not very subtle or pleasing. I feel it requires a completely different way of photographing, miles away from what I've been doing so far. Can't say I succeeded. These are the two shots that I like best. But obviously it's not 'a completely different way'. It's what I always do. At least I put light and colours to good use, I think, instead of trying to deny them. I'm even a little fond of these hints of orange in both pictures.
I doubt if I will ever feel comfortable photographing on summer days, it's not just a technicial thing of course. Or not at all, really. The discomfort with summer and bright weather goes way back and stems from long before I ever held a camera.
At least I didn't have my cameras stolen
January 6, 2022
From the car, on our way home, just after passing Stockholm, I saw the snow gradually disappearing. The most beautiful colours came to the surface, shades of brown, reddish and beige, shades of dark green, against a grey sky – this sounds like drab, but even so, it touched a nerve, these landscapes, right besides the highway, sloping, soaked. Naked all of a sudden, without its white cover. Sometimes looking at a landscape feels like looking at someone you love. That's how it was. I didn't just see opportunities, I saw frames passing by, flawless, meticulously composed frames in deep, earthy hues. They made me feel like I had made a mistake, wishing for snow.
Not that I didn't like it. I loved walking through these white, fluffy landscapes, the silence and the cold light. But strangely enough, I don't care much for most of the pictures I took. There is only a handful that take root. They are not all bad. Just pictures that I don't really want to make. Even if I enjoyed taking them.
The house in Tuskö was situated deep into the woods. It was stunningly beautiful, this snow covered landscape all around.
All these pictures
are taken in the immediate surroundings of the house, in the afternoon, when daylight is quickly fading from as early as 2.30pm. Often the same paths and trees, in just slightly different light conditions. For some reason I do care about this little series. For its repetitiveness, for the dark afternoons that were something exotic to me. For the love of snow in this soft light. For this being our world for a couple of days.
Friends that break your heart*
October 20, 2021
I woke up early. It was foggy and dusky, with a fine drizzle. The view from my window made me want to go out for a morning walk along the river, watching the ships disappearing into an infinite shade of grey. The weather was unusually mild though. I like the different sorts of light on an early morning, half day, half night, soft lights from street lamps in the mist, their reflection on the wet tarmac, the brightly lit building sites. On the way home I came across the fun fair. There was no-one there yet, all quiet. I expected closed gates but there weren't any. Seagulls, never far away in this neigbourhood, were circling and preying on trampled plastic bags and paper cups. So-called sad usually makes me feel irrationally happy. I've stopped trying to explain that to people, or even mention it, but it does. Also, it's where I live.

*The new James Blake album that I'm trying to listen to.