Photographer without a landscape
March 20, 2020

Not going anywhere for some time. Getting out of the house every now and then though, for a short bicycle ride or walk into town. Entertaining myself with a camera and some unexpected quiet little corners in areas that I'm used to passing without noticing much. Spectacularly unspectacular, but I enjoy these strolls, and I'm always curious about the back side of things, buildings and streets in particular.

Downtown Rotterdam. Pictures taken with the Nikon Z6.

Something going through the trouble of happening
March 15, 2020

A classic 'pull over the car-picture'. One of the nicest I've ever taken in this category, and also one of the worst. I like it enormously for the landscape it portrays. I can't blame myself for going through the trouble of taking it. But I never enjoyed this landscape. I never experienced it. Well, I did experience it, but in a way that leaves no mark on the photograph.

It looks calm, quiet, peaceful and inviting. Fact is though, that I never set foot in this landscape, it's a view from an intersection of highways. Busy and noisy. Impossible to pull over, there were no parking spaces or even passing places. We stopped the car at the side of the road for me to get out, and I hurried to find a place to take the picture while P. drove off to pick me up shortly after. Honking cars and common sense were telling me I had to be as quick as possible. But I couldn't find the right spot on the decending road. My position was either too low, or I didn't have a view at all, blocked by a hill or compromised by a secondary road below me. I clinged to the crash barrier on both sides, to avoid being blown away by traffic or to keep away from the edge. An electricity cable was running through my frame (and not in a good way) no matter where I went. I started to doubt if what I had seen from the car even existed. Fragments of a landscape that I had mentally composed into something worthwhile before I even actually saw it.

I returned to the car empty handed.

By removing the electricity cable I erased what most obviously demonstrated this reality, in favour of another: the mental image that preceded it. This is what I thought I saw from behind the side window, not what I was looking at when I clicked the shutter from behind the crash barrier.

Lofoten, Norway, 2019. Taken with the Nikon D750.
Making the rounds
March 11, 2020

It's been a while since I took pictures in the house. I've been there so many times, I couldn't think of anything new to try, I felt my possibilities were somewhat exhausted.

The first pictures I took were fairly standard overviews of the interior and the vibrant colours that it's famous for. Then: a black and white series (that I'm still quite fond of), because I was curious to see what would become of these spaces, once they were stripped from its dominant colour scheme. After that, I tried to evoke a different mood by using shadows and more subdued, intimate colours and details. Even tried something semi-abstract, using reflections in the mirrors.

This time, I didn't have anything in mind, no idea or plan whatsoever. I was there during lunch hour because I needed to check something, and oh, I have a new camera, let's see how that goes.

It's nothing I haven't done before, but at the same time there is a sort of freshness about them that I appreciate. I can't put my finger on what it is exactly. Perhaps a sort of understatedness, lightness, not trying too hard to achieve something special or different. Not seeking refuge in weird perspectives (that I don't care much for to begin with). Not afraid to include some noise (a light switch, a moisture meter, a piece of cloth that doesn't really fit the colour scheme). Not afraid to let the colours speak for what they are, but not highlighting them either. Framing that is just a bit off (next time I should at least bother to take off my coat, and allow some room for manoevre - or perhaps I should not).

Pictures taken with the Nikon Z6. Tripods are not allowed in the house.

Path
March 01, 2020
I'm hesitant to send this picture into the world. I don't think it's very interesting or appealing to anyone, not even sure what it is to me, but I do care for it. It's not about the circumstances in which it was taken. A sunday stroll like many others, in the dunes of Wassenaar. Almost too late in the afternoon, but we felt compelled to leave the house and our screens for at least a few hours before office life would take over again. So we took the car and drove to the beach. (Sometimes it's the woods but frankly, this coastal area with its heath and dunes stretching along the entire country, feels like the only proper Dutch landscape, whereas the woods, well, they feel like a poor imitation of what the name suggests). In any case, rather ordinary circumstances, pleasant, but ordinary. It's about the landscape itself, as unspectacular as it is. It's an archetype of the landscape that I have known all my life. Not necessarily liked, but known. Trees and shrubs always a bit messy, brownish and barren on a sandy soil. A transitional area just inland, a landscape that has never properly made up its mind. Not very pretty really. But there is a path, of course, with a sign to indicate it's a path. Because every bit of what we have, and it isn't much, is made accessible. This particular blue sign has been around since forever, I remember it from my childhood, when I went for sunday walks with my dad. I always felt that its picture represented me and him. I like the different tones of green alongside the path, and how it meanders into the distance, mimicking the twisty branches of the trees.

Meijendel, near Wassenaar.

Scheveningen
February 15, 2020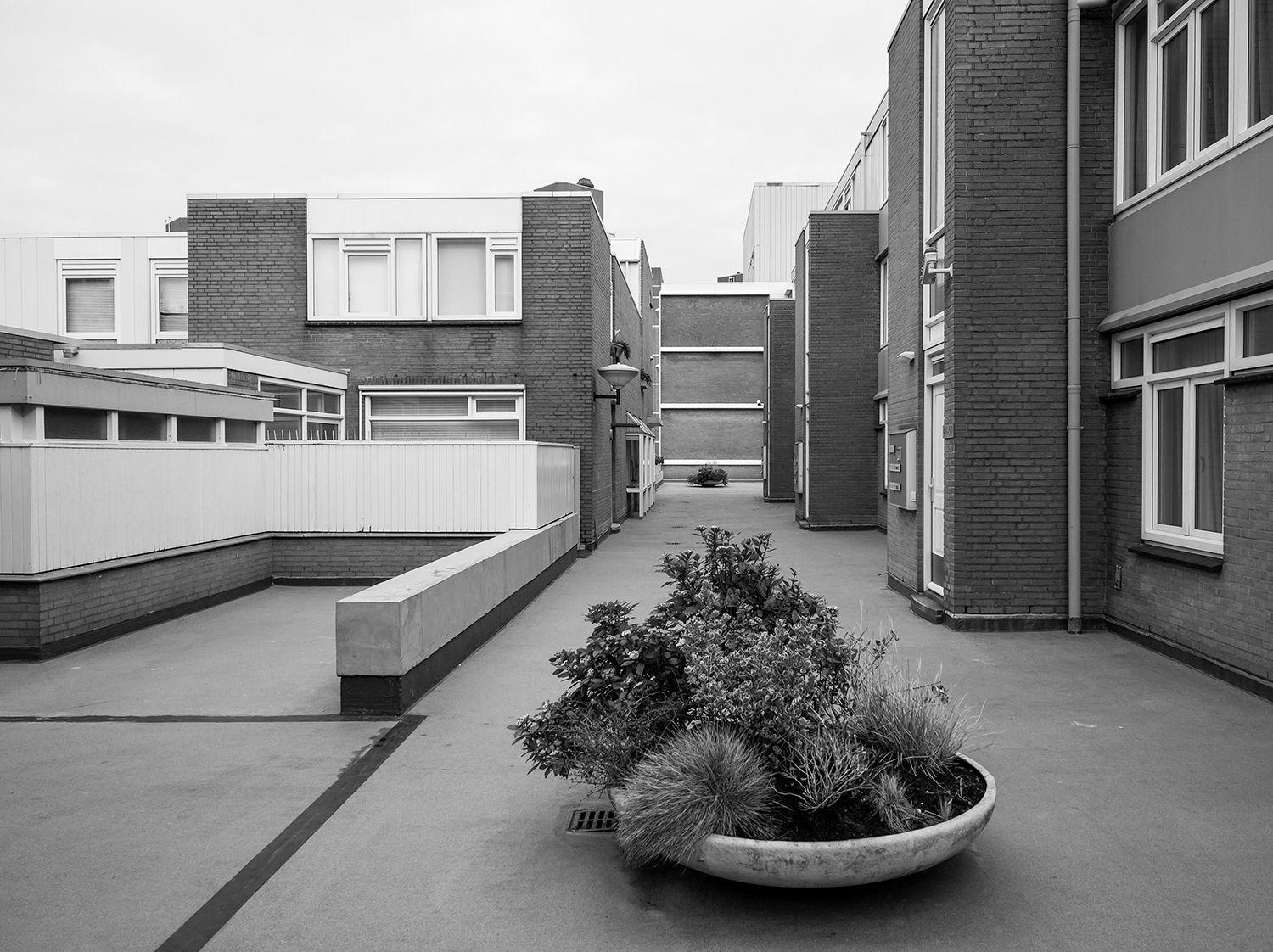 It's tempting to think of these as an antidote to the latest thing I did for the institute – the eyepopping colours and outrageous design of our newly decorated restrooms. But they are not so different really, in terms of lines and perspective and framing. I don't like this architecture any more than I liked the artwork I photographed, but that feels irrelevant in both cases, in pretty much the same way. I do set my '
assignments
' apart on the website, because they provide a different context in which the pictures are taken, and I don't always get to choose my subjects, but I would never call the one thing 'work' and the other 'personal'. It's all personal.
Pictures taken with the new Nikon Z6, and playing some with the monochrome filters that the new PS is offering.