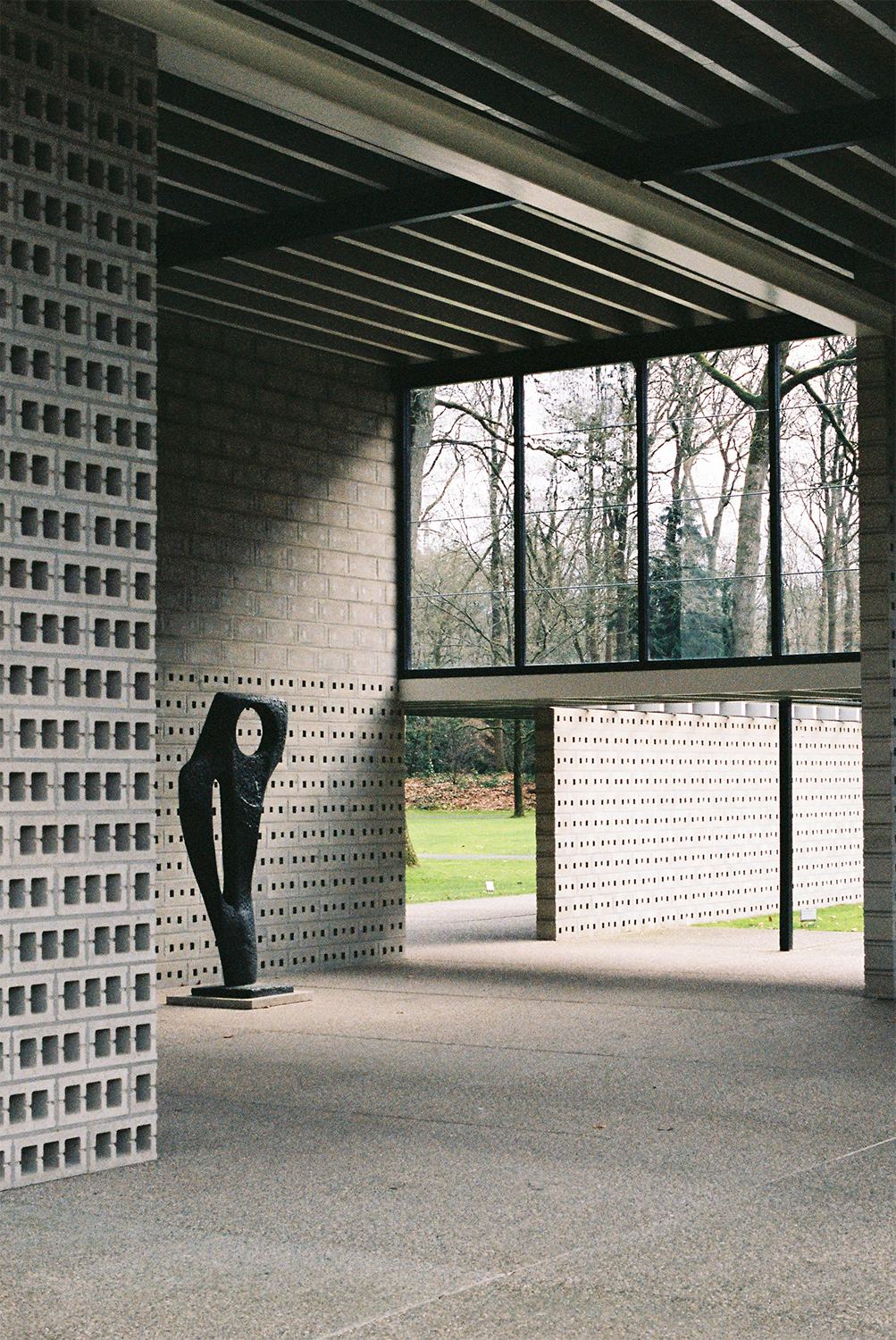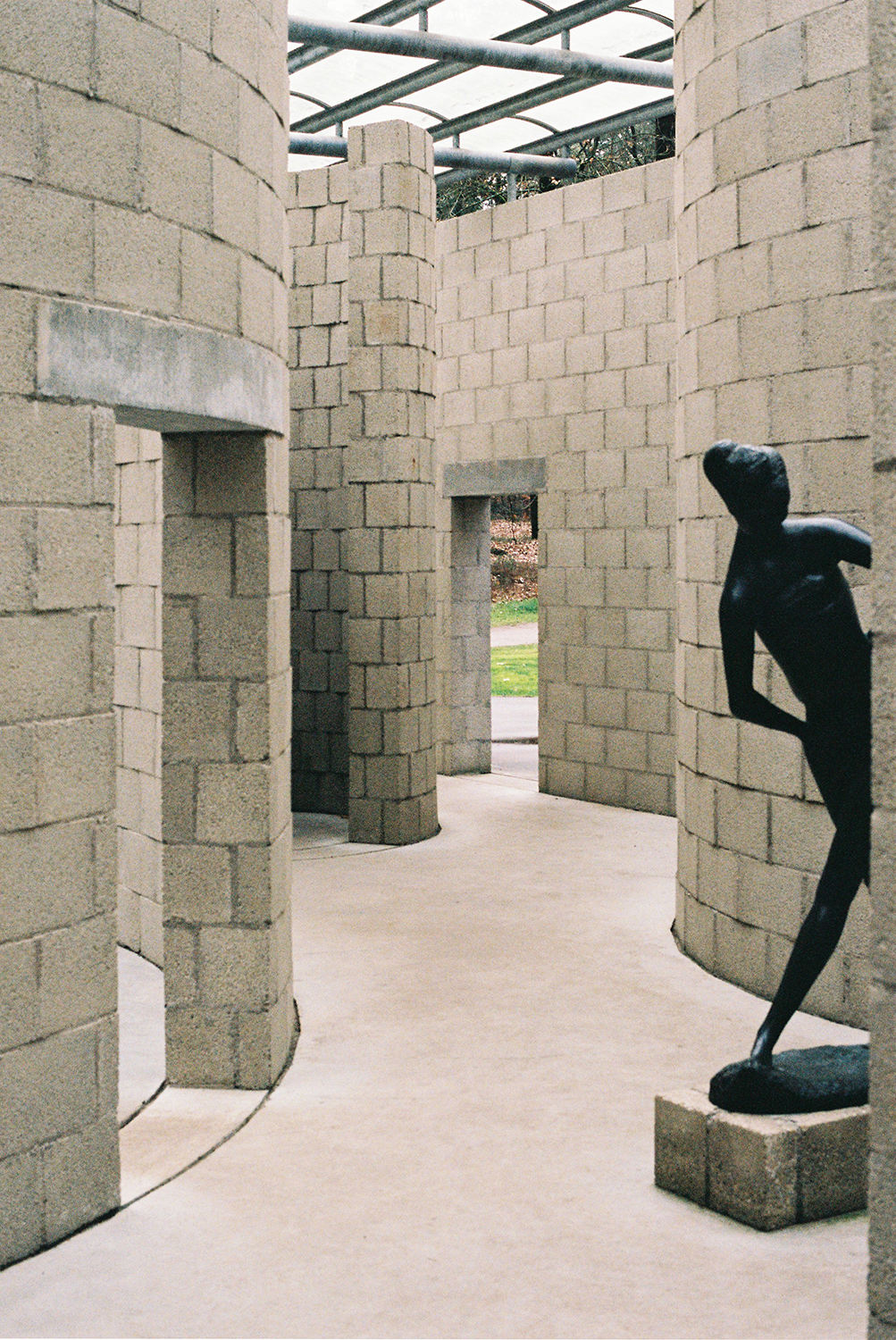 Veluwe National Park. Olympus OM1 50 mm, with Kodak Portra 400.
I remember having taken pictures here with my very first camera, a Kodak Instamatic with those large film casettes and cubic flash bulbs. My mum and dad on their bicycles, much younger than I am now. I loved visiting Veluwe National Park when I was a child, and I still do. I thought the mixture of architecture, art and nature was exactly what I needed to try the new camera, so off we went. A stone cold day, with only every so often a glimpse of faint sunlight.
These are from the first roll of film coming out of the Olympus. Unedited, except for the first one that I rotated a little, and the last two that I cut to a 5x4. (Whenever people tell me they didn't edit their photos I think who cares. But part of me feels that it's not done to edit photos taken with a film camera, as if it's bad enough that I have had them digitised. Also, you can hardly fail with the Z6, technically, so I was a little worried about this experiment, but the scans I received at least don't make me feel like a fraude, now that I have a camera in my hands that actually requires some work).
Typically, I didn't do much research beforehand. Instead I visited this lovely
vintage camera shop
to see what they had in store. I see the Olympus, that I chose for its compact body, built in light meter, solid reputation and overall handling, as a point zero. I'm just gonna use it and see what I like and don't like about it, the process as well as the outcome, and take it from there. It's the only way for me to start anything new at all, and not be overwhelmed (paralysed) by possibilities, choices, doubts, etc.
Not sure how I feel about these files, apart from some relief that they are not total crap. They are a bit more coarse and 'dirty' than I would have wished for. Noise more than grain. A few on this roll are somewhat underexposed, and that apparently is something to try and avoid at all times. Am rather fond of how the pavilions turned out though, Van Eyck's in particular. The grain and hues bring out the roughness of the materials, but somehow also make them softer. Under these circumstances (foul weather, cold light, grey subject) I think the digital files would have been slightly depressing.
I didn't see much of this place, because I was sick when we arrived. It was dark already, but I could see the white frost on the hills and the trees, like snow, only it wasn't. Muted, hazy colours, mysterious, even the next day by plain daylight. I watched it from behind the large window of the house, overlooking the lake. Later I watched it from behind the windshield of the car. It was a beautiful drive, all the way up through the mountains, but also unreal, like I wasn't really there. Then the next day: rain. No mystery left, just the cold. But at least I had my feet back on the ground.
Norma & Gladys
14 March, 2023
"Nothing. Happened in 2017" he said. The pace of time, of life, frightens me sometimes. Once life settles in, the better part of it is routine. Steady, daily, repetitive, human. Not much stands out. With all the turmoil and suffering in this world, I won't dare to complain. Nothing happening is not the worst thing that can happen. Still, it begs the question how well time is spent, what memories are collected in half a century. No easy answers to that. But this. Traveling slows down time, traveling stands out. Nothing much may have happened in 2017. But I will always remember it for NFL.
For climbing Gun Hill early in the morning to uncover the view over Trinity. For the icy waters of
Greenspond
, in the midst of June, for a place called Happy Adventure where I dissected a white king crab. For missing breakfast and an empty stomach because the skull of a reindeer needed to be photographed. For missing the end of the world as a consequence. For a deserted settlement called
Little Brehat
and the fog over its bay. For Norma & Gladys.
Pastoor van Ars Church in The Hague, 1969. Architecture by Aldo van Eyck. Pictures taken 2018, edited 2023.
It's a shame that I hardly ever do this. The way these pictures came about should be scribbled down on a post-it as a reminder of how simple it really is.
Think of a building you would like to photograph.

Look up a contact address.

Write an email/dial a telephone number

Make an appointment and explain the purpose of your visit.

Get on a train or any other form of public transportation.

(Be nervous to meet your person, that's okay)

Meet your person.

Listen to their stories about the building/architect/residents. (They will love to talk about it, promised)

Take the pictures

Agree to send the pictures (If any good, you add, just in case).
Wonderland
08 January, 2023
Looking at the latest 'travelogues', I feel that there is a growing gap between what I want to photograph and what I'm actually photographing. Should I mind? That those little series are more of a reflection of how I spent my vacations and less of the photographer I would like to be? I'm tempted to see these as 'missed opportunities', but are they? And then, I'm not having a clue anyway these days of the photographer I'd like to be.

I love snow, but it's not my ambition to photograph winter wonderland, that I do know. But that's exactly what I did though. Taking pictures of pretty landscapes stretching out in front of me. When hiking, if temperatures allowed me to operate a camera with my bare hands, or from behind the windshield of the car. I got the flu shortly before boarding to Kristiansand, so my energy level was low, and I was happy to be outdoors at all, after wasting precious time on the couch feeling miserable. Taking pictures felt like a bonus.
And so I ended up with lots of photos of snow-covered landscapes with trees and paths. Along with the question of how to make this a little more interesting. Bare trees and snow make files that are practically monochrome. And although I've been doing a lot of black and white lately, I figured this was the time to play some with colour and texture. A painting was hanging on one of the walls of the house in Flatdal. A landscape painted with rough brushstrokes in earthy tones. Not a winter landscape, but the unpolished style and mood somehow made me see what a small series drawn from these pictures could look like.
I added touches of colour to the highlights to underline the different shades of light during the day, or to align them with how I rememberd them. In addition, I selected pictures that contain some colour to begin with. Like the one of the waterfall, because of the unusual yellow hue of the water and the purple-blue sky. The pictures that I took from the car after most of daylight was gone, also felt right for what I had in mind: turning up ISO for a faster shutter speed (no smooth rides on those roads), gave them a sort of roughness to go with their particular colour scheme. Others are slanted (again, bumpy roads) in a way I probably wouldn't have allowed for under different circumstances. And I included pictures in which it is actually snowing, sometimes hardly visible, but giving the scene a somewhat painterly texture.
The result
comes more from selecting than from editing (as in post processing), which is as good an excercise
as any other
.