Pictures shot with the Nikon D750 and a PC Nikkor 35mm attached to it.
Model making
October 29, 2019



One that I wanted to see full page.

But then.. hmm, perhaps not. This would have been so much better with a lower ISO and a tripod. It's a bit coarse and clumpy. Grainier than I expected with this camera. It was underexposed, and not just a little, that's why. Sloppy. Not particularly sharp either, because of the held-held noise reduction combo. I'm willing to overlook the clipping in the background, but only barely. Do love it though, for its subject, but certainly not for its execution.

I remember taking this shot rather quickly. I had been looking at the model making for a while, and suddenly all students were out of the frame. Walked away from their desk or dived under it to pick something up from the ground. And I love pictures of workplaces without the actual work being done.

Model making at the Crown Hall (Ludwig Mies van der Rohe, 1965), home of the College of Architecture at the Illinois Institute of Technology in Chicago.
Clutter
October 27, 2019
It was a good day, that I spent in good company and I was happy to be there either way, so it didn't spoil my mood when the desk guy mentioned 'restoration works' when we collected our tickets for the Farnsworth house. It's what we pay an entrance fee for, to enable the preservation of the house. So I can't complain when that is exactly what they are doing: preserving the house. In this case: replacing one of its windows.

But all the same, it was a disappointment to not be able to see (and photograph) the building intact and in its full glory. The design is all about space, openness and a clean simplicity. The entire house is lifted from the ground, there is literally no place to hide hardware and building supplies. The gap in the rear facade was shielded by plastic and hardboard.

I took pictures from only a couple of different angles, trying to keep the clutter out of the frame. Perhaps I shouldn't have. Perhaps I should have taken the pictures that I wanted to take anyway and deal with the clutter later, one way or the other. Allowing it or not. I could have tried to put it to good use somehow. At least I wouldn't have ended up with pictures that I actually find quite boring. Remakes from magazines, but taken without the proper equipment. The picture that I like the most, is the one above. One that originally and accidentally showed the plastic covered gap in the structure. Unwanted clutter. And I dealt with it.

Farnsworth House (1951) designed by Ludwig Mies van der Rohe for Edith Farnsworth. Chicago, Illinois.
CTA
October 26, 2019
CTA Chicago Transit Authority. Traveling the Green Line between Harlem and Cottage Grove / Ashland 63rd. Stops at Pulaski, Kedzie and somewhere downtown, probably State and Lake.
Processing
October 15, 2019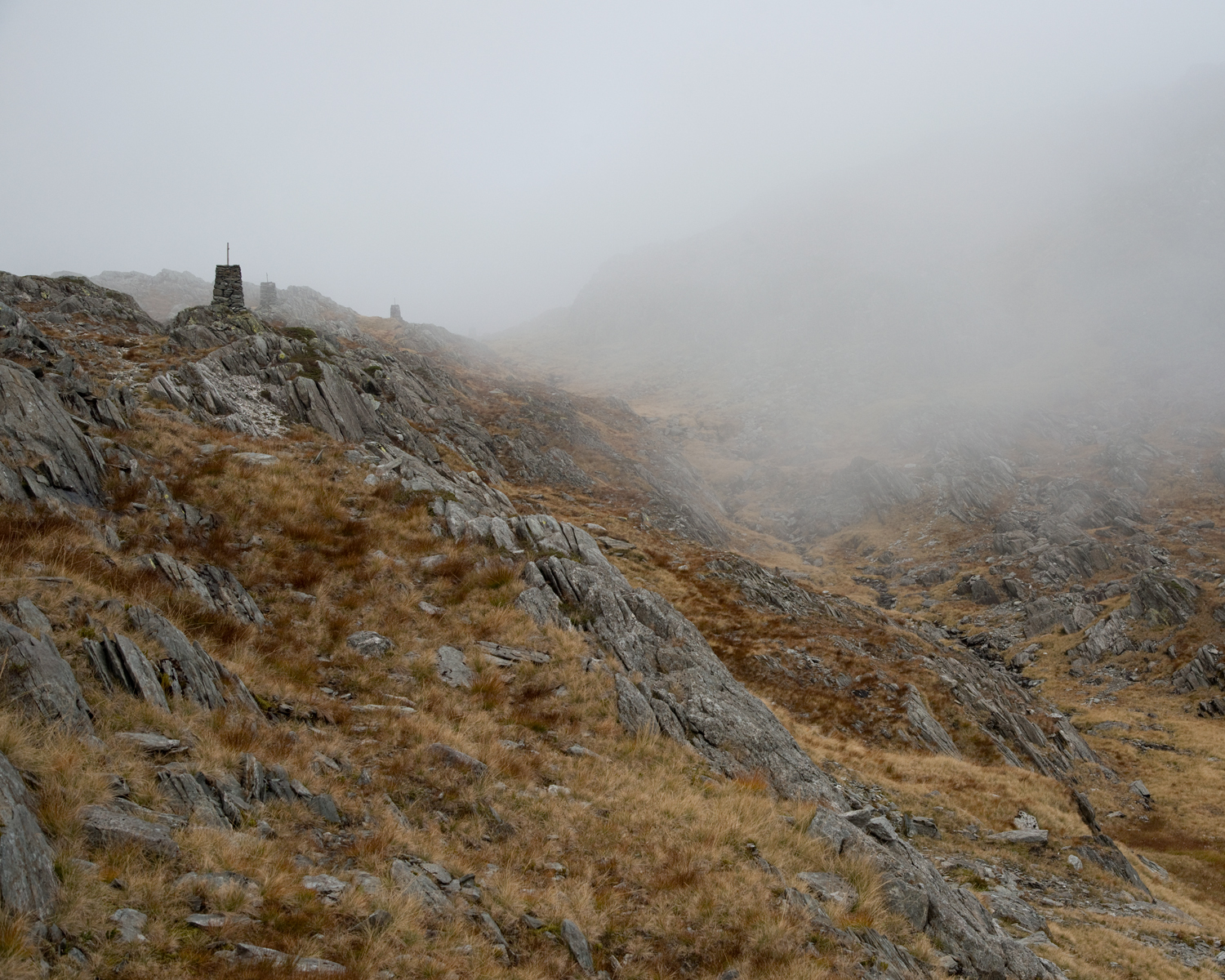 Processing pictures from a trip, no matter how long or short, is: looking at them, making an initial selection, start editing, come back to them, refine them, post them, make a smaller selection, make an alternative selection, kill some darlings, discover new ones, edit some more, put a frame around them, post them, look at them, be in doubt, be happy with it, be in doubt again, make an addition to the website. Fumble with layouts. Write a blog post about it. Continue editing. Etc. At some point I'm done. Not definitely, but for the time being. And only then, I can start thinking about making new pictures.
Not everyone does this. Some people leave them be and move on to other projects or pictures. Occassionally making an edit and posting a photo, along with other pictures from different shoots. And I suspect many people do that. I'm all for it really, creating some distance to the outcome is probably a good idea. Being patient and having a fresher look at it later is probably a good idea. All good, solid ideas. But I can't. I need to work my way through the whole lot, now, not later. The fact that he didn't, made me feel like an overly eager amateur.
But then, I am, so I might as well act on it. It's not just about processing pictures and being curious about the possible results though. It's also about processing an experience. Prolonging the experience by remembering it, as well as deepen it somehow. Going back to these places and how I felt about them, or how I feel about them now. Working on the pictures is a sort of closure to an open end.
Two pictures from a small series taken on Gullfjellet, Bergen Norway.